The thirteenth annual SPEP lecture at the Eastern Division APA meeting will be delivered this year by Linda Martín Alcoff of Hunter College CUNY. The title of her paper will be "Decolonizing Feminist Theory." There will be a response by Ewa Ziarek of the University at Buffalo and Dilek Huseyinzadegan of Emory University will moderate the session.
The session will be held in the Grand Ballroom Salon II on December 28th from 6–8:00 p.m. A reception for all SPEP members and friends of continental philosophy will immediately follow the lecture in the Waterview Ballroom Salons A-C, accessible from the Grand Ballroom through the 3rd floor elevators.
The Eastern APA Meeting will be held December 27–30, 2013 at the Marriott Waterfront in Baltimore, MD.

Qualifications: familiarity with SPEP; experience with administrative and financial procedures appropriate for running a large international academic organization; Ph.D. in philosophy, with AOS in 19th and 20th century continental philosophy or in any of the areas usually represented on the SPEP annual meeting program. The term for this position is subject to annual review. Position comes with a stipend. Preference will be given to SPEP members. Please send a letter of application and curriculum vitae by email attachment to both Amy Allen (amy.r.allen@dartmouth.edu) and Brian Schroeder (brian.schroeder@rit.edu), Co-Directors, SPEP.
Deadline for applications: January 15, 2014.
Please note: Term will officially begin on Sunday, October 26, 2014 at the annual meeting in New Orleans. For training purposes, attendance at the entire New Orleans meeting and the April 10-13, 2014 Executive Committee meeting in Salt Lake City is required.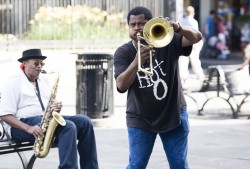 The 2014 SPEP Call for Papers for the 53rd Annual Conference in New Orleans, Louisiana, is now available.
This year's conference will be hosted by Loyola University New Orleans with Tulane University.
The deadline for submissions is 11:59 pm EST, Saturday, February 1, 2014.
Please download the call for papers for detailed guidelines for submitting papers, panels, and books for Current Research Sessions.
All submissions are considered under an anonymous review process.

Dear SPEP members,
We are writing to you in regard to PhilPapers (philpapers.org), the online directory of articles and books by academic philosophers. As you may know, this site has become an important venue for the distribution of philosophical work. The SPEP Executive Committee would like to see this site become more representative of the breadth, variety and richness of current research in Continental philosophy. To that end, we encourage you to submit your work to the PhilPapers site, and/or to submit your personal webpage to be monitored by PhilPapers. You will need to create a PhilPapers account in order to do this, but the process for doing so is simple and painless. We hope that you will join us in this effort to make the outstanding research that is being done by SPEP members more visible to the broader philosophical community. If you don't have a personal webpage with your research or links to your research posted on it, we encourage you to create one.
With best wishes for the start of the academic year,
Amy Allen and Tony Steinbock Executive Co-Directors, SPEP

BUSINESS MEETING AGENDA, EUGENE, OR, 10-25-2013
Society for Phenomenology and Existential Philosophy 52nd Annual SPEP Meeting: Eugene, OR Business Meeting Agenda Friday, October 25, 2013 5:45-7:15 p.m.
Opening of Meeting and Introduction of the Members of the Executive Committee
Submission of 2012 minutes for approval
Appointment of Parliamentarian and Time Keeper
Expression of Gratitude
Statistical Information for the 2013 meeting
Report on the Treasury and Budget
In Memoriam

Bruce Wilshire: Ed Casey
Hugh Silverman: Len Lawlor

Extension of Appreciation to Retiring Graduate Assistant, Christopher Paone
Extension of Appreciation to Retiring Member-at-Large, Brian Schroeder
Extension of Appreciation to Retiring Co-Director, Anthony Steinbock
Elections to the Executive Committee

Member-at-Large Nominations
Co-Director Nomination

Future Meetings:

2014 Meeting: October 23-25, 2014, Loyola University New Orleans with Tulane University
2015 Meeting: TBA

Committee Reports

Committee on the Status of Women
LGBTQ Advocacy Committee
Racial and Ethnic Diversity Committee
Advocacy Committee

Prize Announcements: Graduate and Junior Scholar Prize Winners
Announcements

APA Lecture Announced
Other

New Business and Announcements from the Membership

Open floor

Adjournment

For those attendees who are interested in sharing rooms at the Hilton Eugene or other nearby hotels, we have set up a website for you to share your information. You may also use this site to suggest alternate lodging and travel plans. All information will be shared in the comments section. Please go to:

Please be aware that there are still rooms available at the Hilton Eugene on Thursday, Friday, and Sunday nights of the annual SPEP conference.  We recommend that you call and reserve your rooms for those nights as soon as possible.  Please ask for DOUBLE QUEEN rooms, as there are no longer any King rooms available.  
Saturday night has now sold out.
There is a home football game the same weekend as the SPEP conference and most hotels in the area are sold out for Saturday night.  The football schedule had not been announced at the time that the contract was signed.
If you need lodging for Saturday night, please try the following options in nearby Springfield:
The Holiday Inn has limited rooms available on Saturday, October 26th at the rate of $209. You may visit their website at: http://www.hieugenehotel.com/ They have a complimentary shuttle that can take you to the Hilton Eugene as well as to the airport.  Please note: the group rate is only available until October 1st. Please call 541-284-0707 and mention the SPEP block to receive the above rate.
The Comfort Suites has limited rooms available on Saturday, October 26th at the rate of $209.  You may visit their website at: http://www.comfortsuites.com/hotel-springfield-oregon-OR095. They also have availability for Thursday through Saturday at $189 if you book all three nights.  They do not have a complimentary shuttle but do offer a full breakfast buffet. Please note: the group rate is only available until October 1st. Please call 541-746-5359 and mention the SPEP block to receive the above rate.
The Village Inn, Springfield has rooms available on Saturday, October 26th at the rate of $119.  You may visit their website at: http://www.springfieldvillageinn.com/. Please note: the group rate is only available until October 14th. Please call 541-747-4546 and mention the SPEP block to receive the above rate.
If you are traveling in and out of Portland, you may want to consider staying Saturday night in Portland and flying out Sunday morning.
On a related note, please be aware that the football game will lead to an increase in traffic, so you should budget in extra time for your travel to and from the hotel on Saturday.
In other news:
An updated PDF of the conference program will be available at the beginning of September on the website at: www.spep.org.  All other changes to the program can be found in the errata sheet at the registration table in Oregon.
Please register for the Oregon wine tours in advance of the conference. To sign up, visit Oregon Winery & Coast Tours: http://www.eugenecascadescoast.org/spep/