Due to limited room availability at the InterContinental Hotel in New Orleans, arrangements have been made for a restricted number of rooms at the nearby Hampton Inn, Garden District, which is a short streetcar ride to the InterContinental.
If you need information on how to make reservations, please email: mussettspep@gmail.com
We also encourage members to look on travel websites for nearby accommodations.
In the event that we fill our room block at the InterContinental Hotel and the Hampton Inn, arrangements have been made for a small block of rooms at the Hilton New Orleans/St. Charles Ave., which is directly across the street from the InterContinental Hotel.
Please note that the weekend of our conference is a home game for the New Orleans Saints, as well as a popular time for many conferences to meet. These conditions affect general hotel room availability, as well as the cost of room rental. Please be assured that SPEP is working hard to bring our members additional lodging options.

The Executive Committee (EC) is proposing to expand its size by one additional member-at-large. The reasons for this expansion are a continual increase in the number of submissions received each year, resulting in a heavy workload for EC members, and the ever-expanding diversity of philosophical perspectives embraced by the Society's membership. The EC has considered the financial impact of adding an additional member and we believe that the Society's finances are healthy enough to absorb the extra costs associated with this proposed expansion. In conformity with the process for voting on proposals approved by the membership at the 2012 meeting in Eugene, this proposal will be discussed and voted upon by the SPEP membership at the 2014 New Orleans business meeting. If this proposal is approved by the membership, an election would then be held the following year at the Atlanta 2015 business meeting according to the standa rd electoral procedure for member-at-large slots, with two candidates nominated. That meeting would also include elections for members of the EC whose term has expired.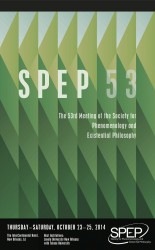 We are very happy to announce the details of the 53nd Annual SPEP Conference to be held in New Orleans, LA, October 23-25, 2014.
The 2014 SPEP Program is now available.
We invite you to visit the Philosophy Documentation Center's SPEP Conference Registration webpage to register for the 2014 conference in New Orleans and pay your annual dues for the 2014-2015 membership year.
Register online to avoid additional on-site charges.
For information on the hotel, please visit the SPEP registration page at the InterContinental Hotel, or call 1-800-496-7621.
Mention group code SPEP when you book your reservation for the conference price of $189 (single & double). $15 each additional guest per room, per night for triple and quad occupancy (up to 4 per room).
We look forward to our time together in October.

The thirteenth annual SPEP lecture at the Eastern Division APA meeting will be delivered this year by Linda Martín Alcoff of Hunter College CUNY. The title of her paper will be "Decolonizing Feminist Theory." There will be a response by Ewa Ziarek of the University at Buffalo and Dilek Huseyinzadegan of Emory University will moderate the session.
The session will be held in the Grand Ballroom Salon II on December 28th from 6–8:00 p.m. A reception for all SPEP members and friends of continental philosophy will immediately follow the lecture in the Waterview Ballroom Salons A-C, accessible from the Grand Ballroom through the 3rd floor elevators.
The Eastern APA Meeting will be held December 27–30, 2013 at the Marriott Waterfront in Baltimore, MD.

Qualifications: familiarity with SPEP; experience with administrative and financial procedures appropriate for running a large international academic organization; Ph.D. in philosophy, with AOS in 19th and 20th century continental philosophy or in any of the areas usually represented on the SPEP annual meeting program. The term for this position is subject to annual review. Position comes with a stipend. Preference will be given to SPEP members. Please send a letter of application and curriculum vitae by email attachment to both Amy Allen (amy.r.allen@dartmouth.edu) and Brian Schroeder (brian.schroeder@rit.edu), Co-Directors, SPEP.
Deadline for applications: January 15, 2014.
Please note: Term will officially begin on Sunday, October 26, 2014 at the annual meeting in New Orleans. For training purposes, attendance at the entire New Orleans meeting and the April 10-13, 2014 Executive Committee meeting in Salt Lake City is required.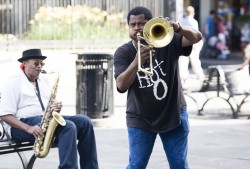 The 2014 SPEP Call for Papers for the 53rd Annual Conference in New Orleans, Louisiana, is now available.
This year's conference will be hosted by Loyola University New Orleans with Tulane University.
The deadline for submissions is 11:59 pm EST, Saturday, February 1, 2014.
Please download the call for papers for detailed guidelines for submitting papers, panels, and books for Current Research Sessions.
All submissions are considered under an anonymous review process.

Dear SPEP members,
We are writing to you in regard to PhilPapers (philpapers.org), the online directory of articles and books by academic philosophers. As you may know, this site has become an important venue for the distribution of philosophical work. The SPEP Executive Committee would like to see this site become more representative of the breadth, variety and richness of current research in Continental philosophy. To that end, we encourage you to submit your work to the PhilPapers site, and/or to submit your personal webpage to be monitored by PhilPapers. You will need to create a PhilPapers account in order to do this, but the process for doing so is simple and painless. We hope that you will join us in this effort to make the outstanding research that is being done by SPEP members more visible to the broader philosophical community. If you don't have a personal webpage with your research or links to your research posted on it, we encourage you to create one.
With best wishes for the start of the academic year,
Amy Allen and Tony Steinbock Executive Co-Directors, SPEP