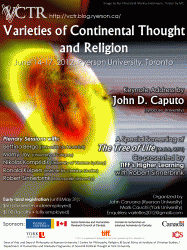 Varieties of Continental Thought and Religion
June 14-17, 2012
Ryerson University
Toronto, Canada
An international conference exploring questions and issues concerning religion and secularism from the purview of major currents in modern and contemporary European thought and aesthetics.
Conference and Registration Website: http://vctr.blog.ryerson.ca/
Keynote Address:
John Caputo (Syracuse University)
Plenary Speakers:
Bettina Bergo (Université de Montréal)
Morny Joy (University of Calgary)
Nikolas Kompridis (University of Western Sydney)
Ron Kuipers (Institute for Christian Studies)
Robert Sinnerbrink (Macquarie University)
Special Screening of Terrence Malick's The Tree of Life – co-sponsored with the Higher Learning Programme of the Toronto International Film Festival (TIFF) Lightbox: June 14, 2012. Followed by a talk by Prof. Robert Sinnerbrink.