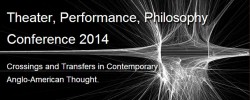 In recognition of the growing new field of Performance Philosophy, this conference proposes an exploration into the crossings and transfers between French and Ango-American contemporary thought. With over 100 scholars and performers from 23 different countries on the program, it promises cross-cultural interaction with a rich diversity of perspectives. The keynote lecturers are Judith Butler, Alphonso Lingis, Catherine Malabou, Jon McKenzie, Martin Puchner and Avital Ronell.
During the three days, parallel sessions and practical workshops will be interspersed with performances and plenaries followed by evening activities such as a film screening, the conference banquet and a cocktail reception. The conference will be held in the historical Sorbonne University in the heart of Paris.
We are pleased to announce that registration is now available on the TPP website! Click here http://tpp2014.com/en-us/registration/ to guarantee your place. Registration is completely FREE OF CHARGE for non-presenters but is required for security reasons in order to be granted access to the Sorbonne (plus you get a cool badge). Meals are not provided, but you may choose to attend the 3-course Conference Dinner to be held in a traditional French restaurant on Friday evening (cost: 50€ – warning: limited availability). Please consult the website for information on transportation and lodging, as well as an updated list of participants and activities: http://tpp2014.com/en-us/.
The conference will be held in English and in French. We look forward to seeing you there!