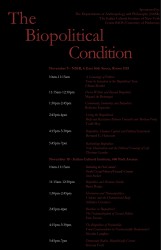 The Biopolitical Condition
9-10 November 2012
New words have recently appeared in our political vocabulary: Biopolitics, bioethics, biolaw, bioweapons, biowar, etc. Why is there such a proliferation? Are new words signal of a new thing? Has biological life acquired a political significance that it did not have before? What lies behind this transformation?
The aim of the conference is to address such questions by assessing the validity of the notion of biopolitics as a critical tool to illuminate different aspects of our current condition, from the various forms of discipline of the body (individual and of the population), to immunization practices, the weaponisation of life, the education of desire, and the paradoxical nexus of neoliberalism and mass incarceration.
LOCATIONS
9 November, New School for Social Research, 6 East 16 Street (between 5th Avenue and Broadway), Room 1103
10 November, Italian Cultural Institute of New York, 686 Park Avenue (between 69th and 68th Streets)
SPONSORSHIP
Departments of Anthropology and Philosophy (New School for Social Research), The Italian Cultural Institute of New York, Centre, and BIOS (University of Piedmont)
FOR MORE INFORMATION
Review the complete program online at www.facebook.com/events/425708434160359/
Email tremm800@newschool.edu if you have questions
TICKETS
Event is free and open to the public. RSVPs are not required. Seating is first come, first served.
SPEAKERS
Chiara Bottici, Miguel de Beistegui, Roberto Esposito, Todd May, Bernard Harcourt, Thomas Lemke, Ann Stoler, Banu Bargu, Adriana Cavarero, Eric Fassin, Nicolas Langlitz, Simona Forti