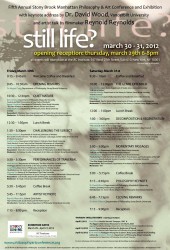 Dear Colleagues,
The 5th Annual Stony Brook University Philosophy and Art Conference and Exhibition: Still Life? is approaching fast!
Keynote: Dr. David Wood, Vanderbilt University
Artist Talk: Reynold Reynolds, Berlin-based experimental filmmaker
Join us on Friday March 30th and Saturday March 31st for two full days of conference panels and discussions at the AC Institute. The AC Institute is located in the Chelsea Arts District in Manhattan at 547 W. 27th St, 6th Floor, New York, NY 10001.
We will kick off our conference with the gallery opening for the Still Life? Exhibition on Thursday March 29, 6-8 pm.
Exhibition Dates: March 29 through April 21st.
ALL EVENTS TAKE PLACE AT THE AC INSTITUTE
ALL EVENTS ARE FREE AND OPEN TO THE PUBLIC
For more information, please visit the website, www.philosophyartconference.org, or contact Shannan Hayes & Darla Migan at philosophyartconference@gmail.com
Shannan Hayes & Darla Migan
2012 Conference Co-Coordinators
Philosophy & Art Conference
Stony Brook Manhattan
www.philosophyartconference.org