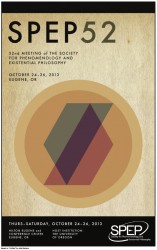 We are very happy to announce the details of the 52nd Annual SPEP Conference to be held in Eugene, OR, October 24-26, 2013.
The 2013 SPEP Program is now available.
We invite you to visit the Philosophy Documentation Center's SPEP Conference Registration webpage to register for the 2013 conference in Eugene and pay your annual dues for the 2013-2014 membership year.
Register online to avoid additional on-site charges.
For information on the hotel, please visit the SPEP registration page at the Hilton Eugene, or call 1-800-937-6660.
Mention group code SPEP when you book your reservation for the conference price of $139.00/night for up to quadruple occupancy.
You may also sign up for winery and cost tours while visiting Eugene. To sign up, visit Oregon Winery & Coast Tours:
http://www.eugenecascadescoast.org/spep/
We look forward to our time together in October.